Our Perfect Equipment for the Job
We believe that a key to efficiency is to have state-of-the-art equipment and expert employees who operate them. From our forestry mowers to our grapple trucks, we have the perfect equipment to clear trees, brush, shrubs, etc. from any roadside.
Our high horsepower track loaders can be equipped with tools from forestry mulchers to hydraulic tree shears to grapple buckets saving labor costs and moving operators into FOPS and ROPS certified operators stations.
Used to efficiently move materials to the grapple truck pick-up zones.
When trees grow over sensitive pavement and structures, our company owned cranes and on staff licensed operators can rig and lift trees up and over obstacles, protecting the valuable property beneath.
Equipped with a knuckle boom and 50 cubic yard bin to quickly pick-up large logs and brush and dispose of refuse in a snap
Used to efficiently remove even the largest of stumps.
Used for grubbing the ground to prepare for construction
Used to chip large trees all at one time - no need to cut trees into smaller chunks
Our Job-Site Safety Procedures
At Russell Tree Experts, safety is KING. We follow all proper safety procedures to ensure all workers and the public are safe on and near the worksite.
MUTCD compliant work zones including flagging teams and proper traffic control device placement to ensure crew and public are safe at all times
Crew wears proper Personal Protective Equipment (PPE) & Proper Class Hi-Vis Clothing (Class 2 or 3) at all times
Crew is First-Aid and CPR trained through the American Heart Association
Through our dedication to Safety, Education, Teamwork, and the Environment our mission is to provide the best tree care & arboriculture resources in Central Ohio.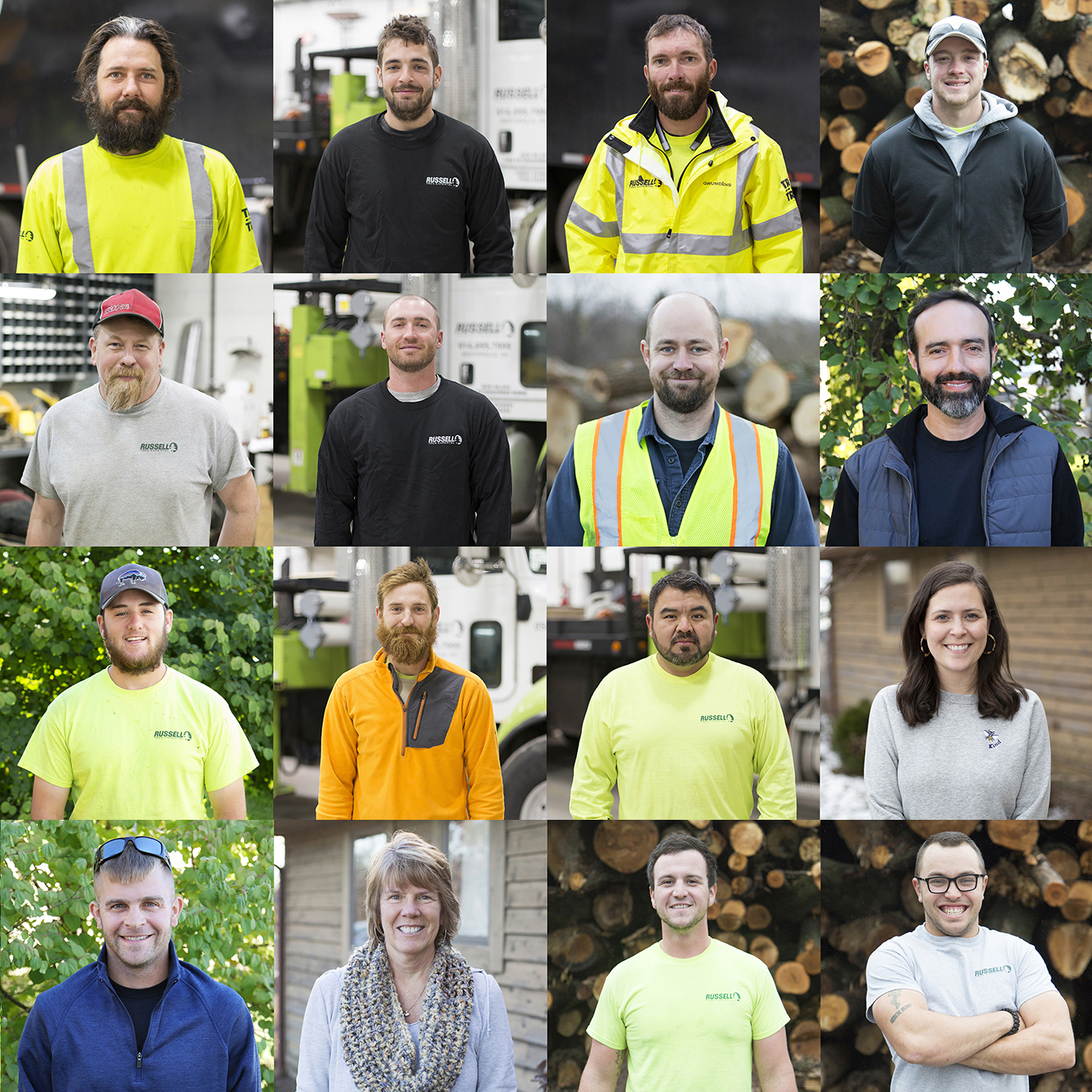 Since 2005, Russell Tree Experts has been a Central Ohio leader in the tree service industry.
- 10 ISA Certified Arborists®
- 1 ISA BCMA®
- 2 TCIA CTSP
- Line Clearance Qualified Crews
- First Aid & CPR Certified
Russell Tree Experts staff meets weekly to conduct mandatory training sessions and also utilizes a customized website for employees to continue to advance theirs skills.
We employee full time mechanics in house who have decades of experience. This ensures maximum uptime of our equipment and on time completion of your project.
we work to make crews available at any time, at any place
Does your job require your subcontractors to pay via prevailing wages? No problem here. We're well experienced in managing payroll in this manor.
Fully Insured & Workers' Comp
Check out the documents here:
Our dedicated office staff is experienced in obtaining proper qualifications as needed. We are also prequalified to work with:
- ODOT
- City of Columbus
Top reasons for choosing Russell Tree Experts
#1
Full-time qualified operators and arborists on staff, not contracted in.
#2
Full-time mechanics with dedicated service trucks for maximum up time, ensures on time project completion.
#3
Full-time office staff experienced with prevailing wage and all compliance issues.